When it comes to design and decor, I am a huge fan of clean lines with a modern and elegant feel. I must confess that I do have a peculiar fascination with hotel rooms and I always find inspiration for bedrooms when I travel. My design philosophy for hotel inspired bedrooms is calm, contemporary and luxurious. It should be a place where you go to find peace and relaxation after a long day and your room should transport you to an unexpected and spa-like space. And let's be honest, what's more relaxing than a 5-star luxury hotel?!  From soft, 100% cotton sheets, to luxe faux furs and fresh, bright blooms, your bedroom can take you far away from your every day!
1. Wall Color
Go for calming, muted tones such as soft gray, lavender or even rich and sumptuous colors such as navy. These colors do not excite your senses as much as red or hot pink and will help to create a soothing space for sleeping.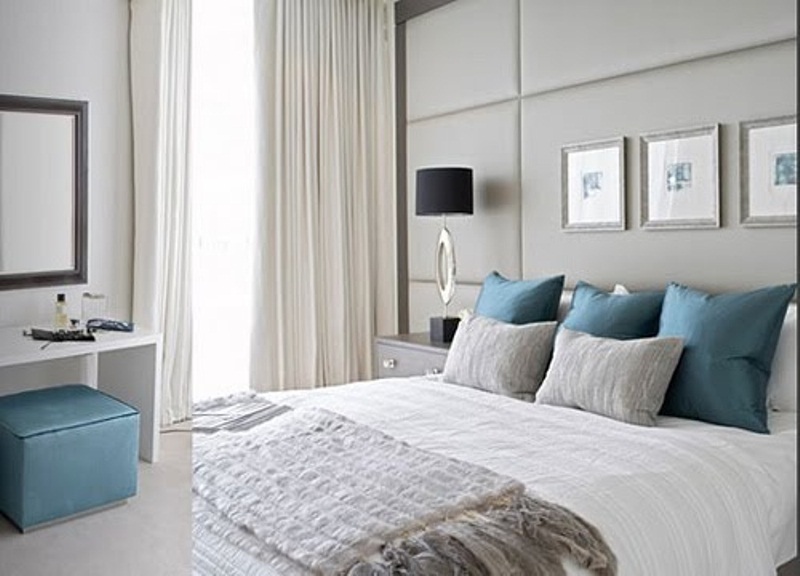 2. Layout
The layout of your room is very important when it comes to design and hotel rooms are a great example of multi-purposing and maximizing a space. In a typical hotel suite you will find a bed, desk, dresser and lounge seating. Keep these 4 aspects in mind when designing your room. I like to start with placing the bed in the room first then arranging all other furniture pieces around it. If your room is small, try to keep it as clutter free as possible using furniture that suits the size and scale of your bedroom's dimensions.
3. Headboard
Your bed's headboard is the perfect focal point to create that WOW factor! Luxury hotels usually have tall statement headboards upholstered in luxurious velvets or silks. A stunning headboard does not have to be custom made and you can find amazing pieces at affordable prices!
4. Bedding
Your bedding should always be soft, durable and feel ultra luxurious to the touch. Always purchase 100% cotton sheets at the highest thread count you can afford. There's no need to break the bank here! A thread count of 350 to 650 should work nicely. Hotel rooms also have beautifully layered beds with ample pillows. My rule is a maximum of 4 standard, queen or king pillows and 3 decorative pillows. You can also opt for 2-3 Euro pillows for an ultra chic look. In my opinion, every bed deserves a warm, cozy duvet and it gives your bed a soft, full look like a fluffy cloud…… soooooo dreamy! I also like to top my bed with a rich faux fur or cable knit blanket to add just an extra layer of texture.  *Tip* Macy's offers a line of luxurious bedding called The Hotel Collection which has the look and feel of high-end bedding but at a fraction of the cost!
5. Decor
Hotel suites are always clutter free when it comes to decor and they tend to stay away from small knick-knack decorative pieces. The trick here is to go for larger items such as beautiful wall art, statement lamps and nightstands. To bring your personality into the space, try adding a large vase filled with your favorite fresh flowers and a few picture frames with memorable moments in your life. The key here is to keep the space as minimal as possible while still maximizing the room with fewer larger pieces!